Our family moved to Myrtle Beach in 2011. We can honestly say that this was one of the best decisions we ever made! It doesn't matter if you're looking for a new place to call home, an excellent spot to raise a family, or a beautiful destination to retire. Myrtle Beach fits the bill! Here are our top 10 reasons to relocate to Myrtle Beach.
#1 Vacation Lifestyle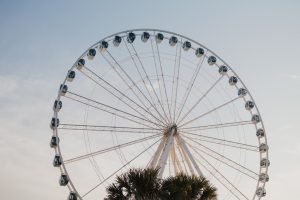 Whether you're an adrenaline junkie or prefer to sit back and relax, Myrtle Beach has something fun for everyone. The number one tourist destination has to be Broadway at the Beach. Here you'll find popular shopping, restaurants, entertainment, and nightlife. You can also take in the beauty of the shoreline from the Myrtle Beach SkyWheel, a 187-foot tall observation wheel located on the boardwalk. All year long there is something going on from festivals to live concerts to oyster roasts. Enjoy the beauty of the sunrise from your rocking chair on the porch or the allure of the sunset on the beach. At Myrtle Beach, vacation is always at your fingertips.
"If we are in the mood for some city vibes, we head over to Market Commons to walk around the streets and soak in the beauty. We love grabbing a bite to eat at a handful of different restaurants, catching a flick at the local movie theatre, going bowling at 810 Bowling Alley, or even going to the park."

– The Marchese family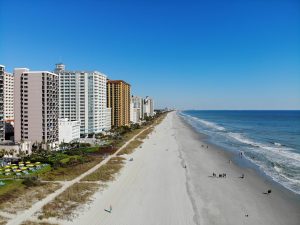 #2 Miles of Beaches
60 miles of beaches. That's right! There are 60 miles of soft, sandy beaches in Myrtle Beach. Our shoreline is one of our most prized attractions. Revel in the beauty of the sparkling Atlantic with some swimming, sunbathing, sailing, fishing, or paddle boarding. Our ocean shoreline along with the nearby rivers and marshes makes Myrtle Beach the perfect spot for water sports and recreation of all kinds.
#3 Golf Capital of the US
Myrtle Beach is home to over 100 of some of the most luxurious golf courses in the country. Thanks to our warm climate, they're open year-round! Some of the most elite golfers make a special trip to Myrtle Beach for the US Pro Mini Golf Tour championship each year. If you're looking for a good game of golf, you won't be disappointed.
"TopGolf is one of our go-to's! It's a great place to grab a few drinks, eat great food, enjoy the weather, and of course crush some golf balls with the family having a little friendly competition."

– The Marchese family
#4 Warm Weather and Sunshine
Say goodbye to shoveling snow, salting sidewalks, and unfreezing pipes. The average annual temperature in Myrtle Beach is a beautiful 74°F with around 215 sunny days a year. Ahhh. Did someone say beach weather?
"My family and I love to watch baseball, and how lucky we are that Myrtle Beach has their own baseball team, the Myrtle Beach Pelicans. The best part is how close it is to everything else in Myrtle Beach."

-Logan Marchese
#5 Delectable Cuisine
Myrtle Beach has an amazing variety of restaurants from mouthwatering seafood and steaks to family-friendly pizza and burgers. You can grab a bite on the Myrtle Beach Boardwalk or enjoy a world of flavors at Broadway at the Beach. One of our family's favorite dinner spots is Michael's Pizza, Pasta & Grill! Myrtle Beach offers something for every palette!
#6 Southern Hospitality
Charm. Manners. Charity. Southern cookin'… Some of the best parts of living in the South! Our southern hospitality makes Myrtle Beach a great place to live. This community is full of life and involvement opportunities ranging from religious organizations to art groups and professional associations. It won't take long to feel at home here in Myrtle Beach.
#7 Quality Health Care
One of the most stressful parts of moving to a new place can be leaving behind a trusted doctor. We can assure you that Myrtle Beach has excellent health care options for the whole family. There are three outstanding hospital systems that serve our region including Grand Strand Regional Medical Center, Georgetown Hospital System, and McLeod Health. We also have a number of nursing homes, assisted living facilities, and home care options for senior citizens.
#8 Job Opportunities
Okay, we don't just vacation ALL the time! Myrtle Beach also offers a variety of stable job opportunities. The tourism industry alone supplies more than 75,000 jobs, but there are an abundance of options in addition to that. According to Zippia, here are some of the fastest-growing jobs in South Carolina: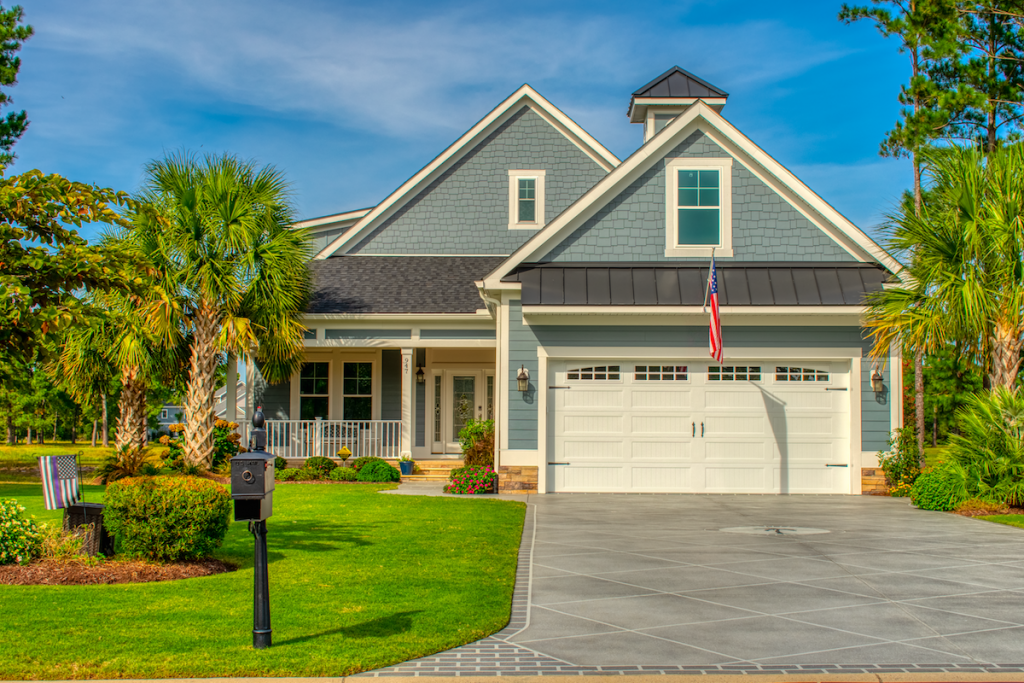 Home Health Aid
Nurse Practitioner
Computer Numerical Controller Machinist
Operations Analyst
Physical Therapist Assistant
Web Developer
Physician Assistant
Physical Therapist
Lineman
Industrial Mechanic
#9 Low Taxes & Cost of Living
If you want to retire near the beach, South Carolina is one of the most tax-friendly states toward retirees. On top of that, the cost of living is around 7% lower than the national average.
Check out this tax guide from the South Carolina Department of Revenue to learn more.
#10 Quality Schools
Quality education is at the top of our priority list in Myrtle Beach. Our region offers first-rate public, private, and charter schools as well as two universities, a technical college, and several trade schools.