Insulation is material designed to prevent heat and sound from traveling from one area to another. It is placed within walls, attics, and ceilings before the sheetrock and drywall are installed. Proper insulation will lower air conditioning bills in the summer and heating bills in the winter. It also creates a much needed sound barrier between rooms and spaces. In short, insulation helps maximize the efficiency of a home while maintaining a desired temperature and sound level.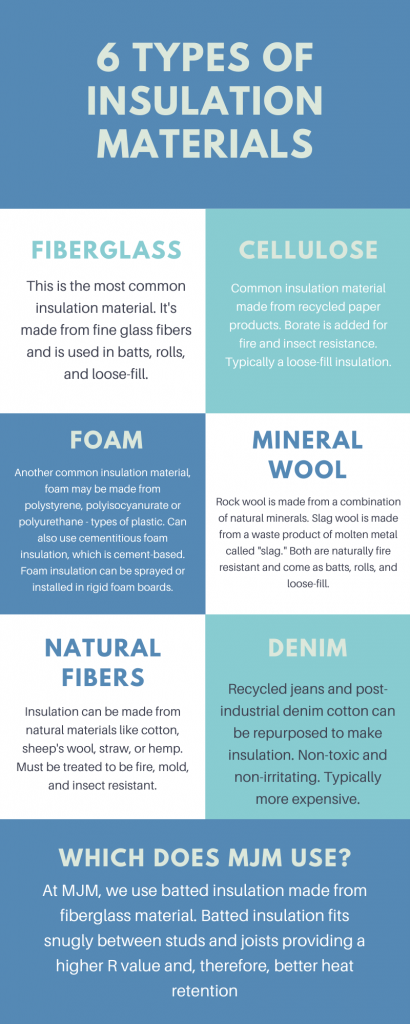 There are many types of insulation builders use. Each type has a unique composition and is rated by its R-value. The R-value of insulation material measures how resistant the material is to heat flow. An R-value ratings takes into account an insulation's type, thickness and density. A higher R-value means the insulation is better for climate control and energy efficiency. The Department of Energy recommends different insulation levels based on the climate of each region.
Methods of Installation
Insulation can be installed a few different ways. Two of the most common types of installation are loose-fill insulation and insulation batts.
Loose-fill Insulation
Loose-fill insulation, also known as blown-in insulation, is sprayed into place. Some builders will use this in attics or hard-to-reach spaces, but loose-fill insulation has its drawbacks.
Settling – Loose-fill packs down forming pockets and empty spaces that let heat and cold through.
Moisture retention – This type of insulation is prone to soaking up moisture. Moisture dramatically cuts down r-value. Since loose-fill is very hard to dry out, exposure to moisture often leads to mold and mildew.
Insulation Batts
Insulation batts are pre-cut sections of insulation usually made of fiberglass, although cellulose, mineral wool, natural fibers and plastic versions are also available. These sections form a "blanket" fitting perfectly between studs and joists. Paper or aluminum facing create an additional barrier that helps prevent interior heat from escaping and water vapor from passing through the insulation. High density batt insulation has almost double the R-value of loose-fill insulation. Insulation batts are one of the most affordable and reliable types of insulation.
Other Forms of Insulation
Insulation rolls

Best for unfinished walls, floors, ceilings.

Foam board insulation

Best for floors, foundation and basement walls, interior and exterior wall sheathing and low-sloped ceilings.

Spray foam insulation

Best for hard-to-reach or oddly shaped areas and already insulated areas. Seals well around doors, windows and vents.

Radiant barriers

Best for attics, unfinished walls, ceilings, floors and attached garages in hot climates.

Vapor barriers

Best for interior and exterior walls in cold or humid climates.
How We Insulate: The MJM Difference
At MJM, we approach insulating a home the same way we approach every other step of the building process. Quality comes first. No cut corners. We insulate all walls, interior and exterior. Other builders only insulate exterior walls in order to meet the minimum code requirements. Our MJM team opts to use batt insulation in walls and ceilings, unlike other builders. We have found that loose-fill insulation can be blown away just as easily as it's blown into place. Therefore, there is no guarantee that it will stay in place. The high-quality batt insulation we use combined with our precise cutting and measuring techniques grant us the ability to make our 100% satisfaction guarantee.

MJM's Insulation Specifications
R19 grade insulation – used for 2×6 walls and 1st floor ceilings
R15 grade insulation – used for all interior walls providing an enhanced sound barrier
R30 grade insulation – used for all 2nd floor ceilings
Satisfaction Guaranteed
At the end of the day, MJM promises quality insulation in every home we build. We only use high-quality insulation materials and precise installation techniques. We never settle for anything less. As a result, we know that MJM custom homes have better heat retention and sound proofing than the other homes on the market.
We make dream homes a reality through dedication to great materials, expert services, and affordable prices. No shortcuts. No quick fixes. That's the MJM guarantee.