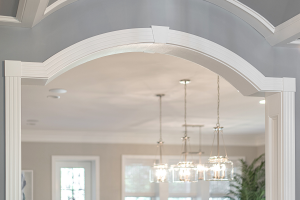 When people picture their dream home, they imagine beauty, perfection, and extravagance. Would it still be your dream home if you started noticing mistakes and cover-ups in the workmanship? Straight lines, square corners, and smooth finishes should be a given when it comes to building custom homes, and trim work is no exception.
Two primary factors constitute quality trim work: valuable building materials and expert craftsmanship. At MJM, we take pride in the fact that our custom trim work meets both of these standards. We offer a custom wood finger-jointed trim package that includes: 3 1/4" casing on all windows and doors, 5 1/4" base, and three-piece 4 5/8" crown molding throughout the entire home.
How can we promise excellent trim work in every MJM home? It all comes back to utilizing high-quality building materials and expert craftsmen.
Better Materials
There are two common materials builders use for trim work: real wood and medium density fiberboards (MDF). At MJM, we only use real wood for interior trim work. Why? Trim work is crucial to creating beauty within a home. Real wood provides a craftsman with the opportunity to get the smoothest finish, as close to perfection as it gets.
Real wood trim: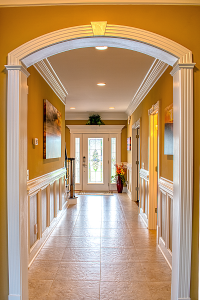 Lasts longer
Is more resistant to damage
Is smoother to cut
Is easier to install correctly
Allows for no visible joints or rough edges
A number of builders opt to use MDF trim. Medium Density Fiberboards are composed of sawdust, wood shavings, small wood chips, and resin. There's no doubt that this is the cheaper option of the two, but major drawbacks come with using MDF trim.
MDF trim:
Is less dense than wood
Is easily dented or chipped
Is harder to install without visible joints
Requires additional sanding and priming that leaves inconsistencies in trim work
Expert Craftsmanship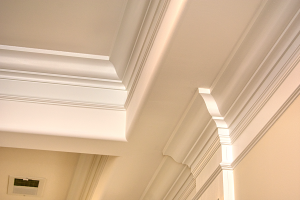 What does it take to get flawless trim work? Correct measurements, precise cuts, careful installation, smooth sanding, priming, and painting. We can say without a shadow of a doubt that our trim crew has mastered this process. This team of experts has been part of MJM since the very beginning. We use the same guys on every home build for one reason; they produce quality work you can trust. It's obvious that these craftsmen take pride in their work, down to every last detail.
And we don't make it easy on them. Every MJM home has its own custom look and trim work. Our team emphasizes special design details that require additional attention, time, and effort. We spend 2-3 times longer on trim work than the average home builder because we make sure it's done right with custom touches around every corner. No mistakes. No cover-ups. No cut corners.
We can promise expert craftsmanship every time with our exceptional trim crew. These guys have what it takes to promise 100% customer satisfaction.
Now go back to imagining your dream home. Try to focus on the trim work, specifically. I'd bet it's straight, smooth, and flawless on every wall, corner, and door frame. Now it's our job to make that dream a reality. Contact us today to get started.