Curb appeal is a term that gets thrown around a lot. Home improvement shows, realtors, and neighborhood HOAs all tout the importance of the first impression potential buyers have when viewing a home from the street. While curb appeal is a huge factor in making a house more attractive to potential buyers, it also makes a home beautiful and welcoming to the current residents, their family, friends, and neighbors.
Any home can be appealing, especially with some simple maintenance and by keeping a few design principles in mind. 
Here are some of our favorite tips:
Curb appeal begins with straightforward cleaning and upkeep.
Keep gutters looking good with regular maintenance.

Homes with siding should be power washed one or two times per year, but keep an eye on the north side of your home for more frequent cleaning. Less sunlight can mean more opportunities for mold or lichen to grow (Martha Stewart, April 2021).

Clean garage doors and shutters thoroughly when you notice a buildup of dust, pollen, or other debris.

Sweep porches and walkways, and spray down with a hose as needed.

Use a pressure washer to clean driveways, patios, and decks once or twice a year. 

Clean windows inside and out once a quarter – don't forget to clean the screens too! (Don't be intimidated by window cleaning! Click Here for step-by-step instructions from a professional cleaning company.)

Keep your lawn, trees, and shrubs well maintained with regular mowing, trimming, and pruning. 

Add fresh mulch to flower beds and around trees seasonally to keep things looking fresh.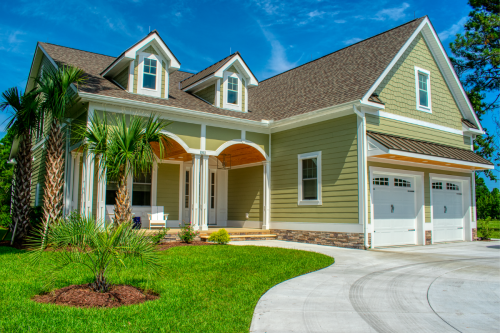 Once basic upkeep is under control, there are several steps you can take to beautify the exterior of your home.
Whether you are looking to sell your home, make it more welcoming to guests, or simply make it more beautiful for your personal enjoyment, the sky's the limit when it comes to curb appeal.
Perhaps the most essential tip to increasing your home's attractiveness is to make it yours! Add personal touches, and make design choices that look good to you and make you happy. Choose colors, plants, outdoor furniture, and accents such as outdoor rugs and pillows that appeal to your taste and compliment your home (Martha Stewart, 2022). 
Curb appeal can be simple and easily attainable when creating an intentional and welcoming look. 


MJM Custom Home Building specializes in building dream homes in the Myrtle Beach area. Contact us today to take the first step to your dream home.