May can be a busy month.  It is a month of celebrations.  Mother's Day, Memorial Day, the end of the school year, and the beginning of summer.  The entire month lends itself to cookouts and outdoor entertaining.  We've gathered some of our favorite tips and tricks for spring and summer entertaining.  You may find yourself making an excuse to host a get-together once you've read just how easy it can be.
A little basic maintenance can go a long way to making your lawn and garden look its best.
Mow your lawn and trim borders.  A well-kept lawn does wonders for the appearance of any outdoor space (

Good Housekeeping, March 2023

).

Remove standing water.  Some insects, such as mosquitos, breed in standing water. By removing their access to standing water, you can limit their numbers around your home.  Empty child-sized pools, rain barrels, and bird baths before hosting an outdoor gathering (

Real Simple, May 9, 2023

).

Clean off outdoor areas.  Spring is the perfect time to pressure wash patios, decks, and siding.  You may also spray planters and outdoor furniture to remove dust, grime, and pollen that has accumulated during the off-season (

Good Housekeeping, March 2023

).
Basics of outdoor entertaining:
As with any act of hospitality, your guest's comfort should be at the forefront of your entertaining agenda.
Let your guests know what to expect.  When planning an outdoor gathering, it is especially important to let your guests know that you will be outside.  This will affect how they dress and will help set a tone for the evening.  Be forthcoming about the types of food and drink that you plan to have on hand, as well as activities, if any, that will be taking place.

Control the temperature.  Even an outdoor event can be somewhat temperature controlled.  When entertaining on a warm day, it is important to provide opportunities to cool down.  Make sure there is water available to guests as well as plenty of shade.  You may also choose to provide small handheld battery-operated or paper fans. Another option is to place large fans or misters throughout the space (

Martha Stewart Living, February 12, 2021

).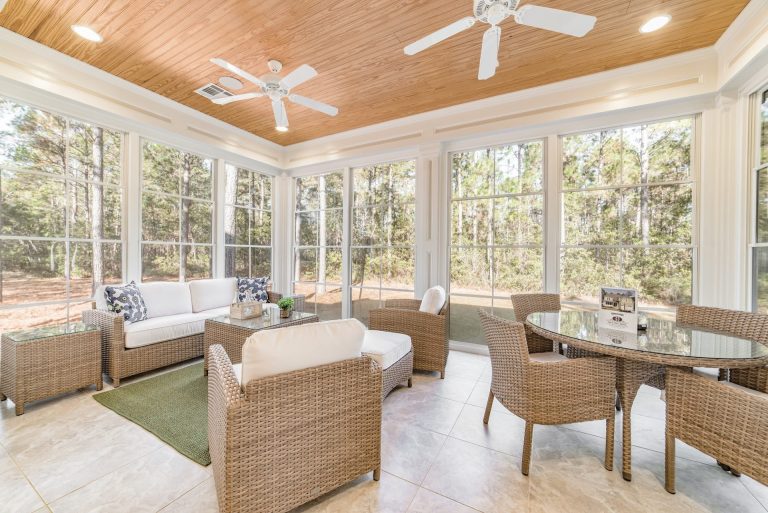 Keeping bugs to a minimum is key to an enjoyable outdoor get-together.  Fans can provide a crosswind that keeps small insects like mosquitoes at bay.  Citronella candles and bug-repelling incense are also known to keep pests away.  It also never hurts to have bug spray or bug wipes on hand for guests that would like an extra layer of protection (

Real Simple, May 9, 2023

).

Have enough seats.  Make sure that you have enough chairs on hand for guests.  If you are short on outdoor furniture, you can borrow from your dining set, pull out accent pieces such as poufs and stools, or lay blankets out for guests to relax on (

Real Simple, May 9, 2023

).

Make sure guests have access to a bathroom.  Let everyone know where the bathroom is, and let them know that they have access to it throughout the event.
Once you've covered the basics of outdoor entertaining, the rest is the icing on the cake!
Tie your space together with decorations. Whether your party is strictly being held outside or is an indoor/outdoor affair, you can use a decorating theme to bring a feeling of coherence to any event.  Add homey touches like cloth napkins, fresh flowers, and gentle twinkling lights or candles.  Make sure that decorations can stand up to the wind or weigh things down with decorative stones.

Provide games or activities for guests.  Simple yard games are perfect for outdoor events.  Cornhole, croquet, horseshoes, and bocci are all excellent choices for keeping your guests engaged.

Make use of indoor/outdoor spaces.  If you are lucky enough to live in a home with a sunroom or an enclosed porch, make use of it!  These spaces are ideal for a large party because they can create a flow from the interior of the home to the exterior and are great for guests who may need to be out of the elements but who still want to be a part of the party.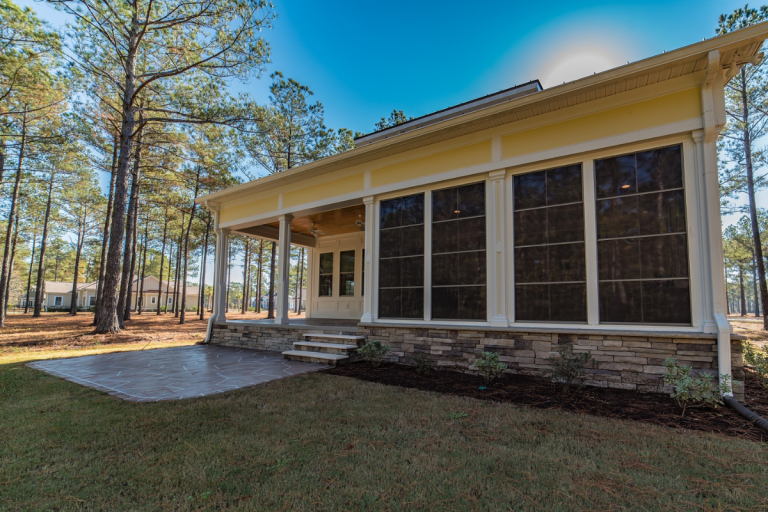 Outdoor entertaining is supposed to be fun! By prepping your space and providing for the comfort of your guests, you can ensure that your event is enjoyable for everyone involved – even the host.  

MJM Custom Home Building specializes in building dream homes in the Myrtle Beach area. Contact us today to take the first step to your dream home.