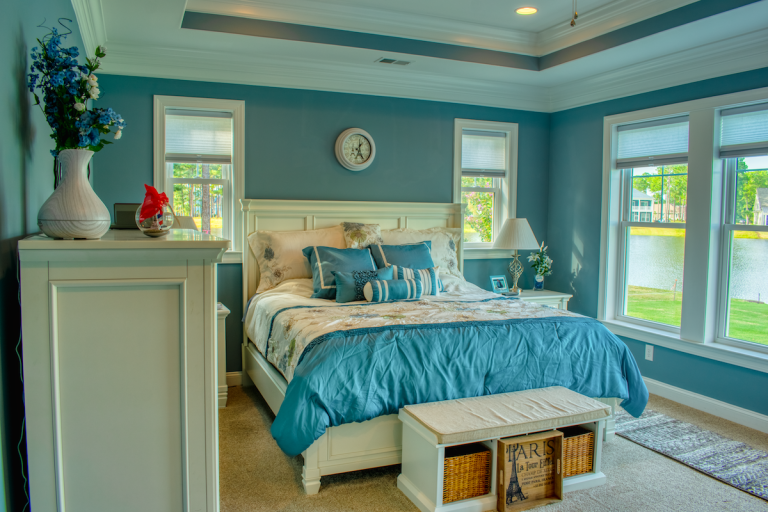 Colors on the walls of your home can change as the years and trends come and go. But everyone wants to be on the cutting edge, so what's trending now? 
We are seeing the blues and greens found in nature trending in two very different directions. We've all spent a lot more time outdoors in the last year, and many of our clients want to bring those blue and green hues indoors. But how they're doing it depends on their overall design style. Some are drawn towards bright, uplifting colors, and others prefer calming, soft neutrals.
Blue & Green Trend #1 - Bold and bright
Don't be afraid to make some bold color choices. Color is what makes a room pop and can leave a lasting impression on guests. Color always sparks emotion in people, and choosing a bold color creates a fun and inspiring atmosphere. Consider using a bold color in a space used for work or play, on an accent wall, or trim.
Blue & Green Trend #2 - Calming Neutrals
If bold wall colors aren't your style, we're also seeing more soothing shades of blues and greens trending. A home design can be tied together with a neutral color scheme throughout the entire home. Then, you can bring accent colors into each room by using furniture, fabric, accessories, and artwork to create individual spaces throughout the house.
Whether you're painting the entire interior of your house, a room, a wall, or just some trim, have fun with it. 
No matter your style, your choice of colors is part of what makes your house a home.

MJM Custom Home Building specializes in building dream homes in the Myrtle Beach area. Contact us today to take the first step to your dream home.