The kitchen is the heart of a home. It is where meals are prepared, snacks are doled out, traditions are shared, and discussions with family and friends happen. It is a space that must be functional but also the backdrop for entertaining guests. Kitchen decor trends come and go, but a look that makes your home practical and beautiful is timeless. 
Some decor trends have staying power because they work well for a variety of families and lifestyles. Let's take a look at some kitchen decor trends that will be sure to stand the test of time. 
Open Concept Floor Plans

Open Shelving

Lighting
There are plenty of reasons why an open concept floor plan has maintained its popularity over the years. Open concept refers to the lack of walls between defined spaces in the home. For example, a kitchen may flow seamlessly into the dining area, perhaps only separated by an island, or the kitchen and dining areas may open into a living room. Each space can still be defined by furniture, decor, and purpose, but the overall feeling between the zones should be one of continuity and connection (Better Homes and Gardens, August 2021).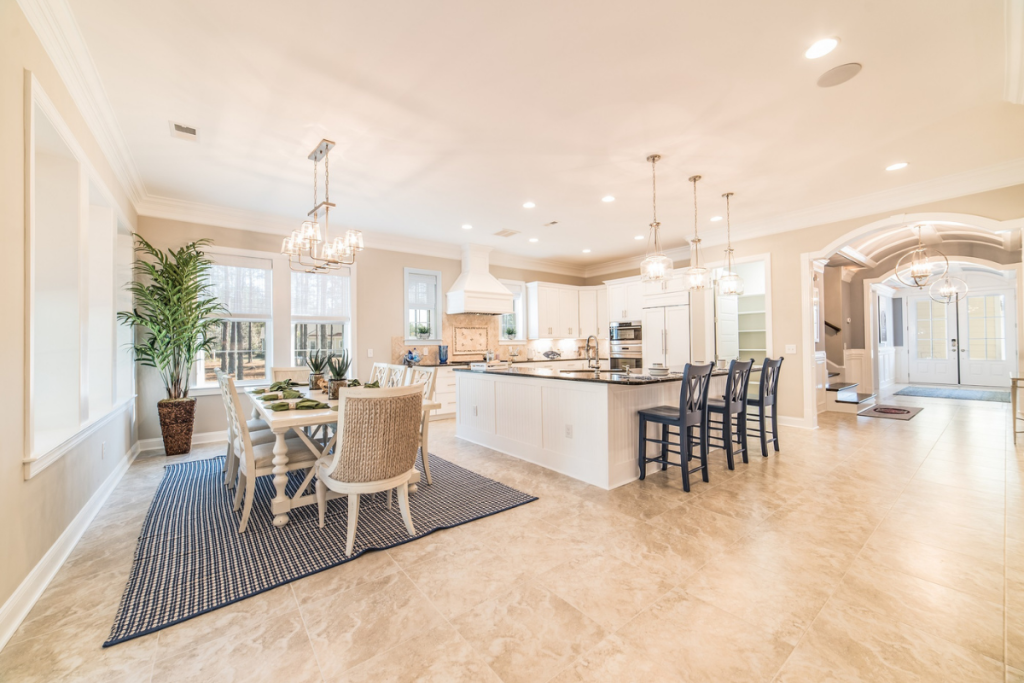 An open floor plan is perfect for families with children (or grandchildren who visit frequently). Parents can cook dinner while children complete their homework at the dining table or in the living area. Mom can keep an eye on the food while playing with younger children. 
The party host is no longer relegated to the kitchen but can be a part of the action when entertaining and preparing the food. 
Not only are open concept kitchens highly functional, but they also create a feeling of space and movement in the home, regardless of the size.
Another trend that is sure to be around for years to come is open shelving in the kitchen and dining area. Open shelving is a trend that has been gaining popularity over the past decade, and it's still in vogue for several reasons. Having kitchen items "on display" allows for ease of use; a well-curated open shelving system in the kitchen means that you can see what you have, and are more likely to use it (HGTV, January 2022). Open shelving is also a great option to display dinnerware. Dishes, glasses, and serving ware become part of the decor when they are out in the open. As with the open floor plan, open shelving is also perfect when hosting guests. When dinnerware and useful items are available, guests feel more at home and are able to interact comfortably.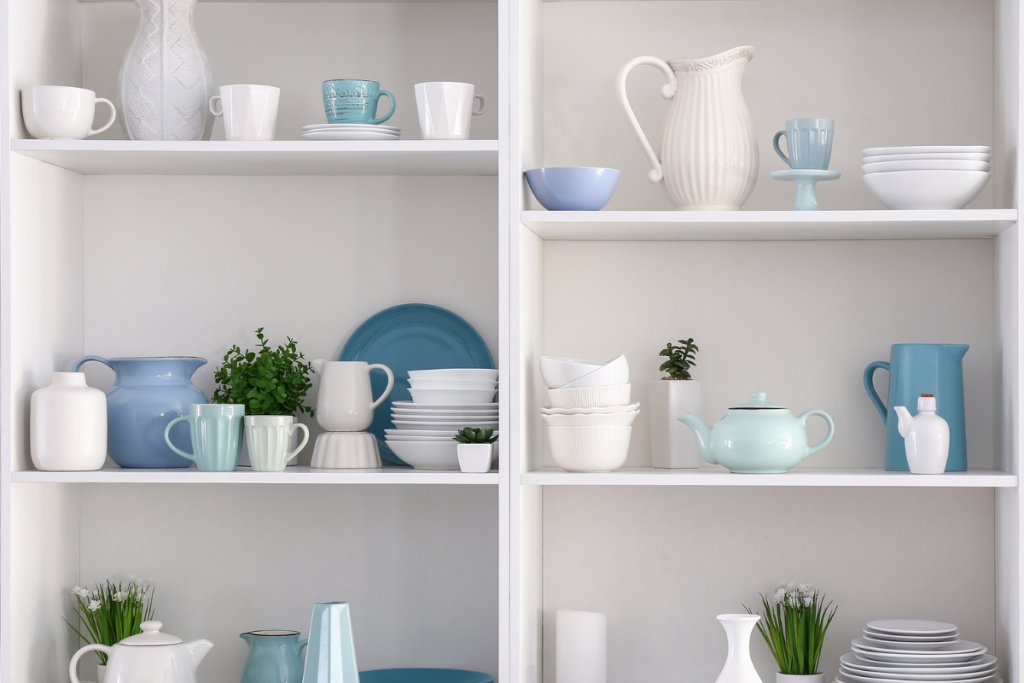 Open shelving is not for everyone. However, even having one or two floating shelves in a kitchen can give the illusion of a modern, open-style kitchen. In addition, by having a mix of traditional cabinets and open shelves, those needing more coverage can keep less curated items behind closed doors while still displaying collections or dinnerware for guests (HGTV, January 2022). 
When considering an open kitchen floor plan, it is important to keep your lighting scheme in mind. Without traditional walls and doors between rooms, it becomes necessary to have a lighting scheme that flows between spaces. One popular option is hanging lights over the island or bar that separates the kitchen from the dining area. Another option is to have a focal light fixture over the dining area and utilize lower-profile lighting in the kitchen and living zones. 
Regardless of your floor plan, the right lighting can bring any kitchen to life. Right now, metals are making a comeback in lighting. Brass fixtures can add a modern spin to kitchens, and aged metals or metals with uneven finishes are also popular. On the other end of the spectrum, light fixtures that reflect natural colors and fibers are always on-trend. Materials such as transparent glass, linen, and natural wood bring a feeling of warmth and comfort to light fixtures (The Spruce, December 2021). 
Trends come and go, so when it comes to your kitchen, your opinion is the one that matters most! Choose colors, concepts, and lighting that speak to you. It's crucial to consider your lifestyle when making decisions about your home. Once you have a mental vision of your space(s), it's important to find a contractor and crew that can make your vision a reality.
MJM Custom Home Building specializes in building dream homes in the Myrtle Beach area. Contact us today to take the first step to your dream home.